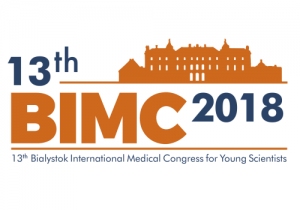 We are happy to announce that 13th Bialystok International Medical Congress
will take place on 17-19 May 2018 in Bialystok, Poland.
Mark your calendar!
Abstract submission deadline is March 18th, 2018.
More details will be announced soon!
Bialystok International Medical Congress for Young Scientists is a conference for medical and PhD students, organized for the thirteenth time by Students' Scientific Society at the Medical University of Bialystok. Every year it brings together hundreds of participants from Poland and abroad, giving them the possibility to present their scientific achievements. Over 300 participants took part in last year's edition, which makes it one of the largest students' conferences in Poland. It's a great opportunity to show the results of your research and practice your presentation skills. Best presentations will be awarded with valuable prizes at the Great Gala. The conference's programme includes numerous thematic sessions, expert lectures and workshops, during which participants have a possibility to expand their practical skills. It is also a chance to make new acquaintances with students from all over the world. Thirteenth edition of the conference will be held on 17th-19th May, 2018 at the Educational-Scientific Center, the Faculty of Health Sciences, Medical University of Białystok.  We warmly invite medical and PhD students to take part in our event!
---